Did you know … Each year, more than 7800 tons of paper documents are processed, the equivalent of 80 Boeing 747 freighters are filled with paper documents. © IATA
E-AWB 360
The cargo community on Brussels Airport – through Air Cargo Belgium – switched over on 01/10/2017 to electronic Air Waybills (e-AWB) as the preferred means for shipping cargo to all destinations, by using the e-AWB single process. This initiative is implemented in the scope of IATA's e-AWB360 program.
The eAWB360 campaign is based on three pillars:
Single Process: All participating airlines commit to implementing Single Process at eAWB360 airports before the go-live date
Airport SOP: Common e-AWB SOPs need to be developed for all stakeholders at eAWB360 airports
Communication: A series of coordinated and synchronised communication and engagement activities will be done between airlines and IATA. The communication promotes the use of e-AWB as the preferred message for shipping cargo to all destinations from eAWB360 airports.
E-freight standard operation procedure and single process
E-FREIGHT SOP BRU
Please find below the approved e-AWB Standard Operating Procedure for Brussels, for both import as export flows. During ACB's first year, the e-freight working group developed this SOP which is the result of thorough discussions and collaboration of the working group members, in consultation with the BRUcargo community. The SOP includes all guidelines and principles on which e-AWB shipments are based upon, regardless destination. On the following link you find the complete SOP (e-AWB export process flow included)
Download
For any feedback or questions, please mail to efreight@aircargobelgium.be
SINGLE PROCESS
The Single Process implies that for the forwarding agents with whom an airline agreed to start e-AWB, the airline will provide a copy AWB to the destinations for which e-AWB is not yet possible.

Single process makes it possible to deliver all AWBs paperless. For lanes where a paper copy is required for operational or other reasons, the airline will print a paper AWB. In order to do so, the airline will use the electronic data, received from the forwarding agent.
Getting started — MeA & Activation Notice
The Multilateral e-AWB Agreement provides the legal framework for parties to conclude cargo contracts by electronic means. An airline and a freight forwarder signs the MeA only once, and can immediately start moving e-AWB shipments with their partner, provided that both have mutually "activated" a location where they have operations. You're just a few steps away from getting started! Please find below the guidelines for airlines and freight forwarders to join the Multilateral e-AWB agreement and get activated.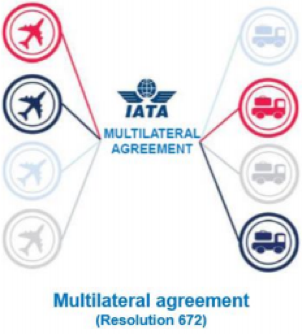 Dashboard
The goal of this dashboard is to inform the community about the e-AWB progress made so far on your airport. Please find below the facts and figures representing the current situation in May for Brussels Airport.
E-AWB PENETRATION RATE BRU
47,50%
IATA'S MONTHLY E-AWB REPORT
Every month, IATA publishes the latest state of affairs with regard to the e-AWB. Please click HERE to be redirected to IATA's monthly e-AWB report.
See the report
FORWARDING AGENTS E-AWB READY
E-AWB EXPERT CORNER
Do you encounter any electronic message problems? Do errors occur when sending e-AWBs? Shoot your questions concerning bounced messages to efreight@aircargobelgium.be.
E-FREIGHT MONTHLY COMMUNITY UPDATE
Subscribe here to receive your monthly newsletter and stay informed about the e-AWB on Brussels Airport.