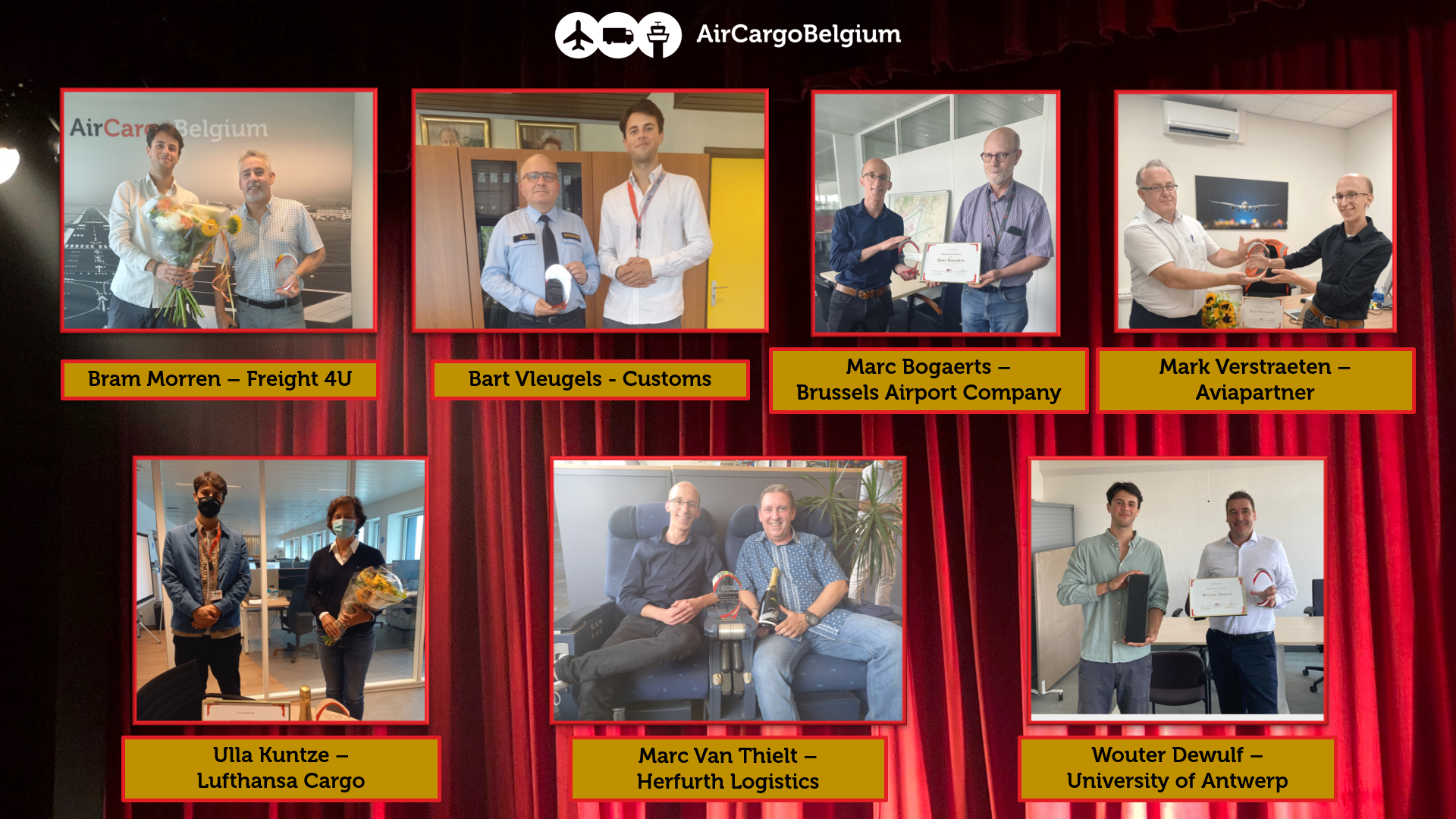 After last year's first award ceremony, it was our pleasure to bring a message of gratitude towards people that embrace the Air Cargo Belgium filosophy. Last year, we rewarded various of our members in 7 different categories, with one of them being an ACB Ambassador of the Year. However, as we work together with many people from all our members, we wanted to reward 7 people as ACB Ambassadors of the Year.

It was our great honour to hand over our ACB Awards
To Bram Morren (Freight 4U), Chairman of the E-commerce steering group, always motivated and a real community player.

To Bart Vleugels (Customs), an advocate of close cooperation between Customs and ACB's members. He is always willing to help and find solutions in a complex environment.

Another Award winner was Marc Bogaerts (Brussels Airport Company), a true BRUcargo hero with a lot of expertise, always willing to give advice and to guide us (literally and figuratively).

Mark Verstraeten (Aviapartner) won a well deserved Award, as he is always open for new ideas to further optimize the operational side of airfreight or to give feedback on our questions, even when he is baking bread in his spare time.

Also Ulla Kuntze (Lufthansa Cargo) was a winner of the ACB Ambassador of the Year Award, for stronly participating in our Airline Cluster and believing in the ACB mission.

Marc Van Thielt (Herfurth Logistics) won an Award as well for being a PMA (Perishable Management App, to be launched soon) pioneer from the very beginning. He always makes time for us!

And the 7th Award was for Prof. Dr. Wouter Dewulf (University of Antwerp), whom is very actively involved in our BRUcure Taskforce and always provides a lot of input during meetings or as a moderator of our webinars.

A sincere congratulations to all the winners. it is a huge pleasure to work together with all of you, and we look forward to a long lasting collaboration, together with all our members!